new story, new kittens, new reading, oh my!
The weather is heating up and I am hiding indoors with all of my curtains drawn. Here is what's new in the House of Books!
---
NEW STORY
Huzzah, I have a new short story out!! "The Limits of Magic" is available online at Apparition Lit in their Redemption-themed issue. In this story, you have run away from an oppressive regime, only to realize that saving yourself is not enough—you have to fight for those who cannot save themselves. It is a mini epic fantasy soaked with regret and determination and some bonus smashing of patriarchy. I hope you enjoy it!
---
NEW KITTENS
It's okay, I know this is what you really clicked through for! I was going to wait longer, I really was. But, you see, it's kitten season, and, well…
Meet Chernobog and Belobog (Cherno and Belo).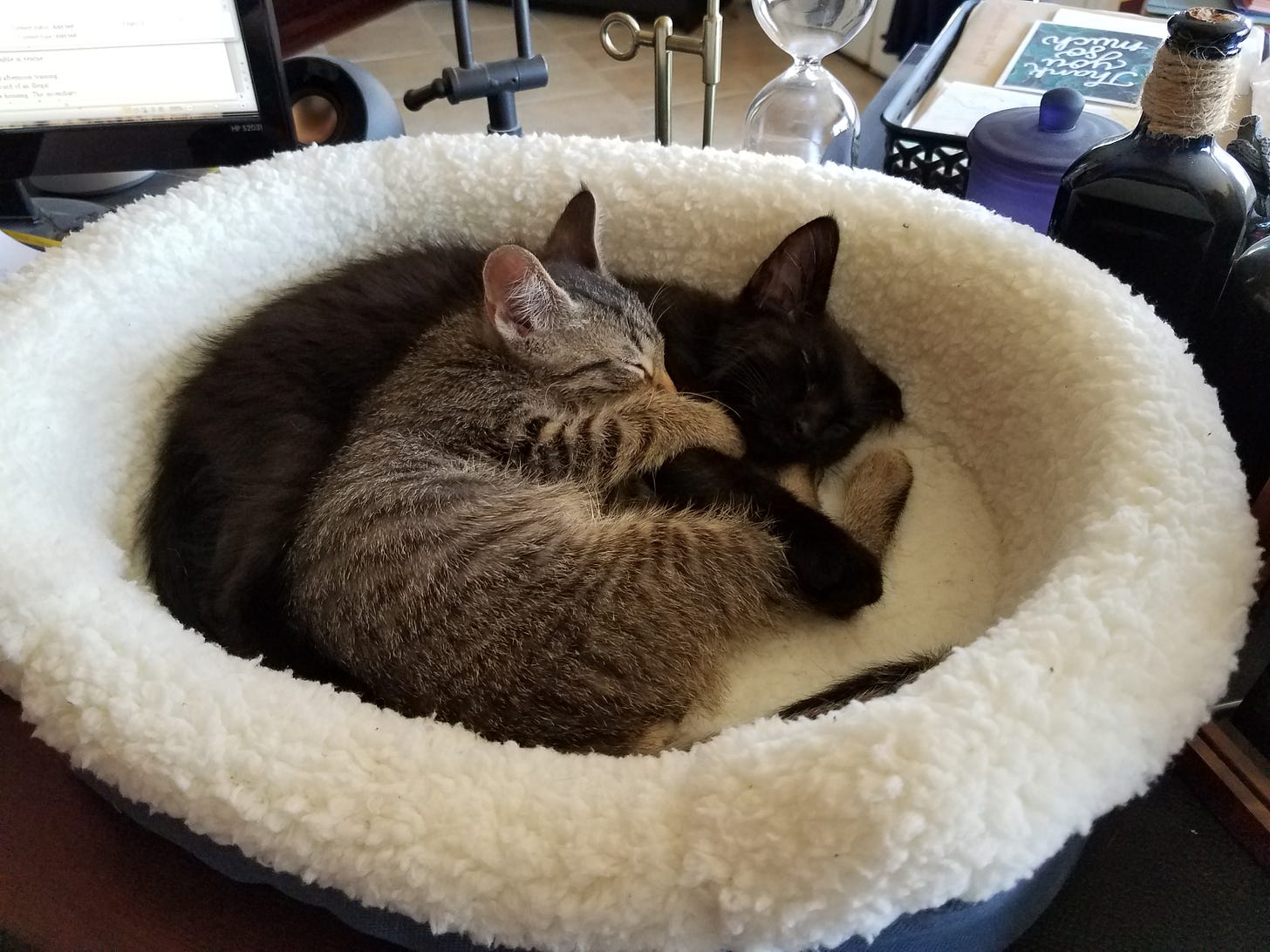 Bwaaaaaaaa, I already love them so much! More baby pictures as well as the long-suffering patience of our 11yo tabby, Professor Stormfury, at my blog. Plus, obviously, they are all over my Twitter account. I don't make the rules, where there be kittens there be one million kitten photos.
---
READING RECS
Despite encouraging you to read my intense anti-authoritarian piece above, I have personally been in the mood for gentler, more escapist reads, so here are a couple of my recent favorites:
"The Ransom of Miss Coraline Connelly" by Alix Harrow, in which the queen of the Black Realms kidnaps a toddler, only to find matters both worse and better than she expected.
"Open House on Haunted Hill" by John Wiswell, about a terribly lonely house that just wants somebody to live in it again.
"Regarding the Robot Raccoons Attached to the Hull of My Ship" by Rachael K. Jones and Khaalidah Muhammad-Ali, about a case of sibling rivalry that gets amazingly and intensely out of hand. I absolutely adore this one and want to shove it at everyone, EVERYONE.
---
Coming Soon…
I just sent back line edits for my upcoming story in Uncanny Magazine, and I can't wait to share it!! Stay tuned for the gentle tale of a messy space family who stops to visit with an anchoress, told by a very strange narrator indeed.